~Fantastic 1963 Ragtop VW Beetle~
SOLD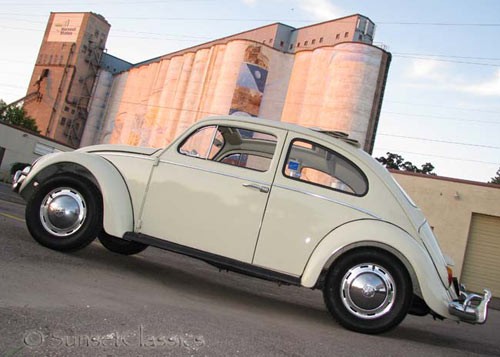 This is definitely a solid ragtop VW Beetle we have for sale. It has had rust repair done years ago but it was done correctly. In 1963 most cars didn't have seat belts as it was an option. So seat belts have been added bolted through the floor pan for extra stability.
The heater channels are great. No rust in the wheel wells. The original motor has not been rebuilt to my knowledge. The floor pans are super solid. Haven't looked under the battery but from the bottom they are all great. The top is in about 8 out of 10 shape as there is a very small imperfection.
The window seals are replacements but the original window seals with trim come with the car. The top seals fine and works well. It's a little stiff rolling back but it's not as stiff as my '57 ragtop.
The kingpins sound like they should be replaced or rebuilt. To completely rebuilt the kingpins it would cost about $400. My Uncle has a classic VW Shop about 30 miles from me and I asked his mechanic Wednesday what it would cost to do that repair.
I can't testify as to how bad they are, but when I got the car the seller told me his mechanic recommended they be rebuilt, and my mechanic who got the car running great said the same thing. I imagine the car will steer like new once those are replaced. It's not horrible now but it sounds like it should be done.
Other items the car would need are a horn ring, the turn signal switch handle is broken. The rear motor lid handle is missing as is the front female part for the hood. The pull release for the hood may need replacing too though there is a cable installed in the car. Engine runs and starts well. Brakes were just adjusted and work well but the pedal doesn't come back as it should (nor does the clutch) so I've been pulling the pedal return by using my foot.
There is a spring that should do that for you that is not installed correctly or needs to be replaced. I would guess the brake lines are new but I'm waiting to hear back from the mechanic about that. I know he adjusted the brakes so the stars in the drums are free and not rusted in place.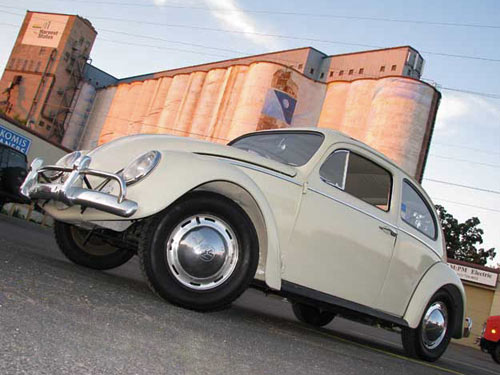 Hey, if you liked our vintage VW cars and buses please give us a 'Like'
To find more cars for sale head on over to the Vintage VW Beetle for sale page.
Beetles, Bugs, Buses, and Buggies oh my!
....and Ghias and Porsches of course too.