dune buggy for Sale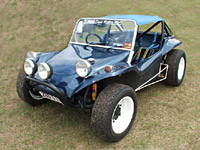 Ah the dune buggy - as the legendary Speed Buggy was prone to say "Vroom-a-zoom-zoom!" As Spring turns into Summer my thoughts turn to the beach and what better way to enjoy the beach than cruising the sand in a modified Meyer's Manx dune buggy? Or even better dropping off a 100 foot sand dune in a V8 Sandrail dune buggy.

Whether you have your heart set on finding an original Meyer's Manx, a custom built sandrail (go on give in to those Mad Max fantasies), or even a wicked Baja Bug chances are you'll find it on eBay. So take a peek bellow and see what pops up. I'm guessing as the weather heats up so will the dune buggy auctions so stop by often and grab the best dune buggies they have for sale before everyone else does.
As always, have a great day from the air-cooled kids at Vintage VW Cars.
Current Bid: $5,000.00
(0 Bids)
Ends: May 01, 05:13 pm
Ends: May 01, 05:53 pm
Buy It Now: $1,225.00
Ends: May 03, 11:11 am
Current Bid: $5,500.00
(0 Bids)
Ends: May 03, 01:55 pm
Ends: Apr 29, 10:23 pm
Current Bid: $4,949.00
(40 Bids)
Ends: Apr 30, 09:21 am
jump to page: