karmann ghia convertible for Sale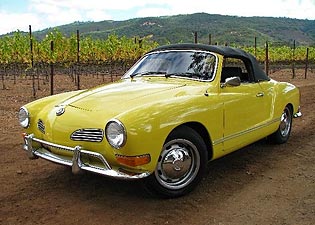 The Karmann Ghia Convertible is one of my favorite cars - I've owned several and as soon as I part with one I can't help but buy another (I currently have a 1962 Karmann Ghia Convertible for sale that is restored to museum quality but needs assembly - take a peek on the cars for sale page). I also have the opportunity to sell a number of fine Karmann Ghia coupes and convertibles from time to time, but if I don't currently have what you are looking for the next best place to look is eBay.

If you are like me you have about ten Karmann Ghia auctions you are currently watching. If not below you'll find plenty of fine Karmann Ghia convertibles for sale that will certainly light that fire of desire in your eyes - and if you get that lucky winning bid you'll soon discover the thrill of owning a sporty little Ghia convertible of your own - or perhaps your second or third... it's addicting trust me.
As always, have a great day from the air-cooled kids at Vintage VW Cars.
jump to page: