porsche 356 for Sale page 2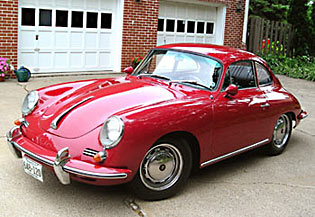 Welcome to my Porsche 356 auction house where I sell all my many Porsche 356's, well at least that's what I dream every night, but then again if I owned all those fine Porsche 356's I sure wouldn't want to sell them! Listed below are current Porsche 356 auctions from the people who do want to sell their classic Porsche 356. I'll just have to wait awhile before I share that Porsche dream - I am currently restoring my own 1962 Porsche 356b. Wish me luck and see the progress on my Porsche 356 Restoration page!
For those of you who are new to the Porsche 356 - let me tell you what you are missing... The air-cooled rear engined 356 was built by Ferdinand Porsche (son of legendary Ferdinand Porsche senior - maker of the Volkswagen Beetle) between 1948 and 1965. The 356 body design was actually designed by Erwin Komenda (designer of the VW Beetle).
In 2004 Sports Car International ranked the 356C tenth on their list of Top Sports Cars of the 1960s. Seeing as the Porsche 356 has enjoyed much success in the racing world as well as on the streets of the world this accolade is well deserved. Perhaps if you are lucky and you have the funds you'll find a rare Porsche 356 Carrera for sale below that would fit just perfectly in your garage. Good luck and welcome to the club!
As always, have a great day from the air-cooled kids at Vintage VW Cars.
Ends: Feb 15, 01:23 pm
Current Bid: $27,972.00
(0 Bids)
Ends: Feb 12, 07:00 pm
Current Bid: $10,300.00
(45 Bids)
Ends: Feb 08, 07:00 pm
Current Bid: $45,000.00
(9 Bids)
Ends: Feb 10, 08:45 am
Ends: Feb 13, 05:35 am
Ends: Mar 05, 03:06 pm
Ends: Feb 22, 02:29 pm