vw baja for Sale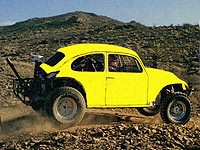 When most people think about cruising the dunes on a hot summer day their first thought tends to be a Meyer's Manx style dune buggy, but off-road enthusiasts know the real deal is the VW Baja Bug. I mean what gets your adrenaline pumping more a dune buggy or a super custom hand built Baja bug with a 5.7 Liter LS1 V8 engine, 18 inch chrome rims, suicide doors, road cage and custom midnight black paint with electric blue tribal tattoo airbrushing. Well, ok, maybe that kind of Baja bug is more of a trailer queen than an off roader but you get the idea. Still if my Baja bug was pimped like that you wouldn't see me complaining.

If you are a true off road enthusiast than I'm sure you'll find a few VW Baja Bugs below that will crank your engine - there are usually several Baja bugs for sale ranging from home made customs to racing class Bajas to daily drivers, and of course the half finished project Baja bugs. So take a peek and good luck winning that auction.
As always, have a wicked cool day from the air-cooled kids at Vintage VW Cars.
Current Bid: $2,550.00
(11 Bids)
Ends: Apr 23, 07:47 pm
Buy It Now: $1,800.00
Ends: Apr 24, 04:43 pm
Buy It Now: $10,000.00
Ends: Apr 25, 05:29 pm
Current Bid: $1,400.00
(0 Bids)
Ends: Apr 28, 06:14 pm
jump to page: