~Welcome to Vintage VW Cars~
Classic VW Cars, Parts, Photos, Video and More!

Devoted to the restoration and sale of vintage VW cars and VW buses
Hi I'm John Snell, If you'd say I have a bit of a "Thing" for vintage Volkswagens you'd be right on the money - I'm guessing since you are here you too enjoy a classic VW now and then as well. Whether you are a fellow collector or simply like looking at VW videos and photos you'll find some great classic cars here to enjoy.
I have been restoring and selling vintage cars including Volkswagen Buses, VW Beetles, Camper Vans, Porsche and other VW cars since 1992. My uncle, Jerry Coffin, owner of J.A.C. Auto in Anoka, Minnesota got me started at a young age and taught me much of what I know today about restoring vintage Volkswagens.
Stop on in enjoy some classic Volkswagens and buy your next Vintage VW Beetle or Bus from Vintage VW Cars!
Over the years I have been a mechanic, rust repair guru (self proclaimed), classic car broker and a trustworthy salesperson with the integrity of a saint! These days I am focusing pretty much exclusively on buying and selling classic cars (or brokering the sale for you). I have also recently been picking up neglected buses and treating them to a very nice restoration so keep an eye on our bus page for the latest classic buses, kombis, campers Westy's and well, just about any type of VW Bus for sale you might be looking for. Stop by often to check out my selection of VW Buses and Beetles here as well as a whole range of classic cars at my classic car selling business Sunset Classics (you'll see mention of it sprinkled through out this site).
I currently have the following Classic Volkswagens and Porsche for sale: feel free to ask about my other classic cars for sale was well!)
1972 Karmann Ghia Coupe
1957 Oval Window VW Beetle
1957 23-Window Samba Deluxe Bus
1971 VW Squareback (check out the video above)
1980 VW Beetle Convertible (one of the last ones made!)
1962 Mercedes Unimog for sale (French Military Vehicle like the Thing)
Now that's a pretty little tower of classic VW's for sale eh? Take a look at the classic VW Beetle for sale page for details and photos, or the VW Bus for sale page for, you guessed it the vintage buses we have for sale. And that's not all... if VW Things are your thing see the VW Thing for Sale page for some great deals on VW Things, or our VW Karmann Ghia for Sale page, and of course our Classic Porsche for Sale page featuring all those great looking Porsche 356's and Speedsters. Whew that was a mouthful!
Vintage VW Cars Featured VW Video: Here is a beautiful 1965 VW Bus sold recently. 1776 cc engine and my favorite safari windows! Stay tuned for some more great air-cooled bugs and buses and Ghias oh my! If you have a video you'd like to share just swing your peepers on over to our contact page and share some of your favorite vintage VW videos.
Then head over to the classic cars and buses sold gallery (we now have two separate gallery pages one for cars and one for busses so be sure to keep an eye out) to see some of the vintage VW vehicles I have restored and/or sold in the last few years.
You'll find the likes of a fantastic 1977 Westfalia VW Camper bus and a super sporty 1963 Ragtop VW Beetle, as well as a several fantastic 356 Porsches, and of course many many more buses to drool over and love. If you just happen to want to give away your Split window bus just let us know and I'd love to take her off your hands and treat her right.
Scroll down to see some of My Vintage VW Cars Collection!
and for fun, here I am as a Limo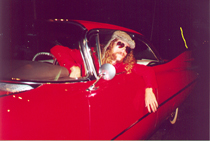 Driver in the Movie "Now Hiring"
Some of my current cars and projects:
My Vintage 1957 VW Oval Window Sunroof (owned since 1994)
Click Above For the Full Story and More Restoration Pictures of this Classic Air-cooled VW!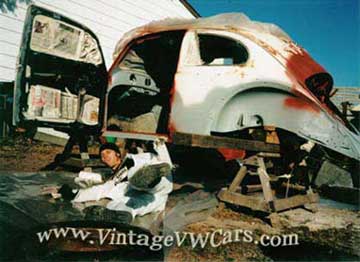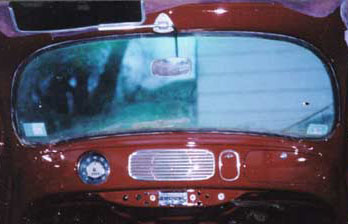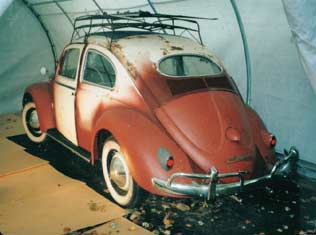 Pictured above primed and ready for paint!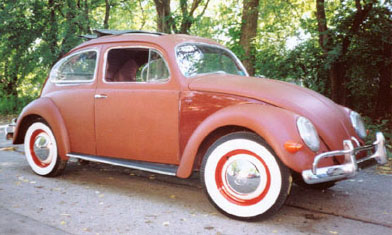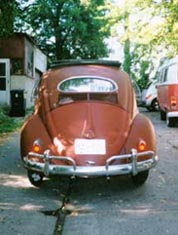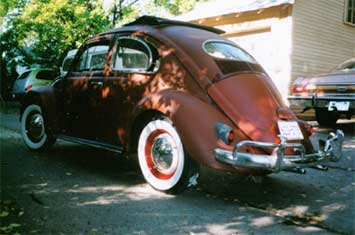 Condition in 2014 all painted and Purdy!
---
My 1975 Super Beetle Convertible (Owned Since 1995)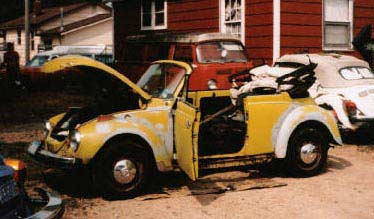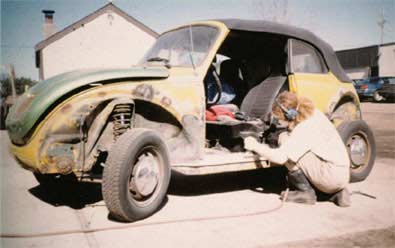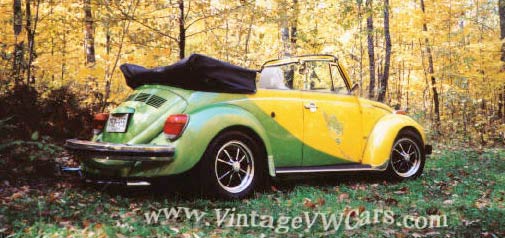 ---
1974 VW Thing (Owned since 1991! My second car ever!)
Check out the New Stock Exhaust exiting through the bumper!
I got that installed (along with the correct oil-bath air cleaner) Sept 16th '06.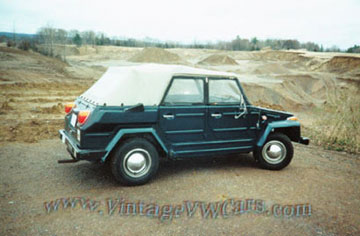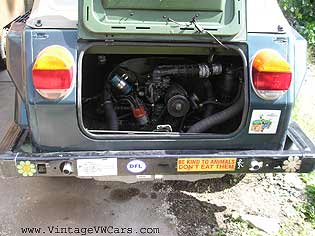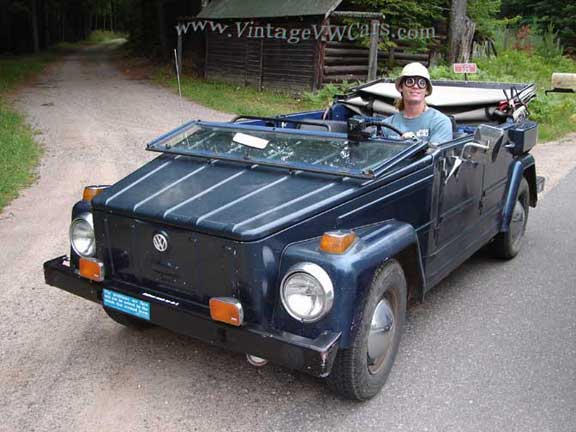 ---
And my daily driver...a classic 1975 Ford Gran Torino (Owned since January of '03)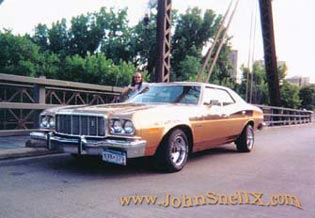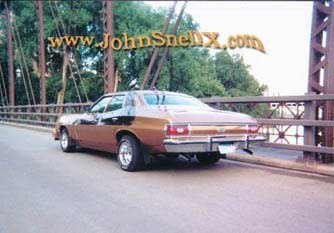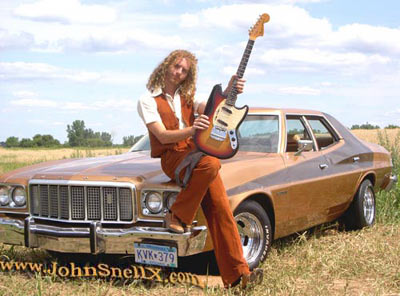 Um...I've got some bad news about the Gran Torino...May 22nd. 2005.
"That's a Bummer Man", as the "Dude" from The Big Lebowski would say...
And "It tastes like Burning", as Ralph from The Simpsons would say.
See the full story and photos....Gran Torino Fire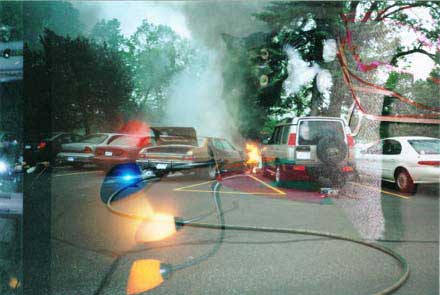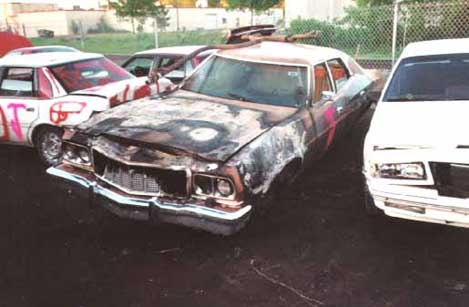 ---
My Next Project is this 1962 Karmann Ghia Convertible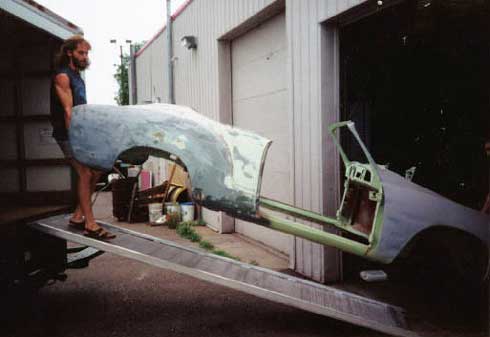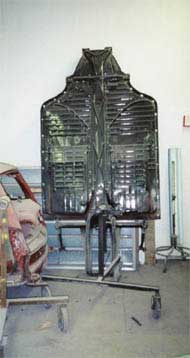 Finally started working on it summer of 2005!!
And in 2012 it was ready for sale - well almost - still needed assembly see it on the cars for sale page!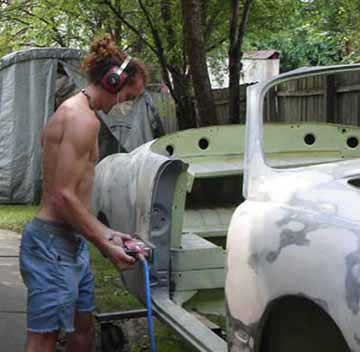 I bought this 1962 Porsche 356B back in July of '05. Click on it to see all my progress!
Six pages so far of Porsche restoration pleasure! (and pain)
---
Here's a view of my garage in 2002 (Left, with the '68 Ghia)
and in Sept. 2006 (Right, with the '70 Ghia & Kombi bus for sale).
Here's a Photo from May 22nd, 2006 Check out all those VW Cars!
(Left. I bought that Orange '77 Ford Conversion Van to replace the Poor Torino.)
The photo on the right of the freshly primered 356 Porsche is from Sept 19th, 2006.
(That's black etching primer)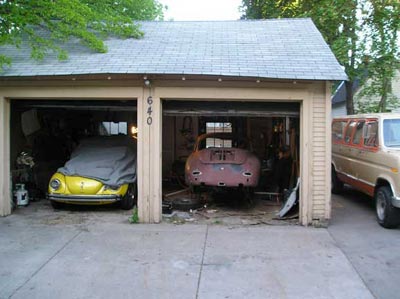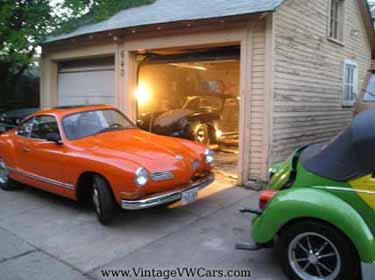 So, now you'd betta check out da Cars for Sale page to buy a nice vintage
VW Beetle, Camper Van, VW Bus, Super Beetle, or Karmann Ghia...
Hey, if you liked our vintage VW cars and buses please give us a 'Like'