~Rebuilt Front Steering and Suspension~
(Runs, Drives, and Steers Very Smoothly)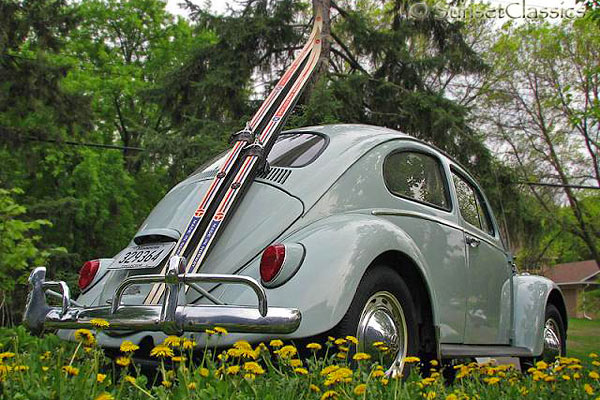 I have a nice original 1964 VW Beetle for sale that starts up and runs great. It has its original 40 hpr engine and the car is completely stock (with the exception of two hidden performance items - a high performance exhaust and external oil cooler located on the firewall in the engine compartment). The floor pans are original and in good shape with one repair under the battery and the floor pans have been painted with protective black paint. It's hard to find an early to mid '60s Beetle that hasn't been modified, lowered, or otherwise molested.
My Uncle (the Uncle who owns the VW Shop J.A.C. Auto--the Uncle that got me into VWs a long time ago in a land not so far away) sold this bug last year to a guy that drove it as his daily driver all summer long. That buyer didn't have an indoor spot to keep the car for the winter as his wife wanted the "extra" spot in the garage. So I ended up with the bug this past winter. I made some improvements on it to get it to run even better and I also added heat, carpet, and the stock floor mats, and now it's ready for sale. I polished it and waxed it this spring and it is looking great.
This 1964 VW Bug has:
New brakes (complete with new hoses/lines and drums)
Rebuilt front steering and suspension (It runs, drives, and steers very smoothly)
New carpet, Seat Belts and Tires
New correct style floor mats
The engine appears stock although it does feel like it has a surprising amount of zip for a 40 horse. It could just be due to the high flow exhaust that is on the car, but it sounds pretty healthy when you rev it up. There is an external oil cooler mounted to the firewall up by the air vents, so that increases oil capacity. With how responsive the engine is I would suspect it has been rebuilt at some point (or that the mileage of 65,077 shown on the odometer is original). But all I can say for sure is that it starts right up and is really responsive.
The rear deck lid still has the original VW Dealer emblem from Greeley Colorado on it just below the license plate. And the rear bumper still has accessory ski mounts attached on both sides. This car has some fun personality traits, and I'm sure it has seen a lot of fun throughout the years.
I don't have the original radio but the car comes with the chrome ornamental plate that goes in front and around the radio. It also has the backing plate for that piece but it is bent up some. It could probably be straightened and used since it goes behind everything and mounts from the trunk and isn't seen. But again the car comes with the original chrome piece for the front of the radio space.
This 64 bug is nice and solid, even under the spare tire, wheel wells, rocker panels, and other areas typically prone to rust. This body is nice and solid.
Give me a call to find out more! Thanks, -John Snell 612-805-2428
Hey, if you liked our vintage VW cars and buses please give us a 'Like'