~1974 VW Westfalia Pop-Top Camper~
SOLD - Find more buses for sale below...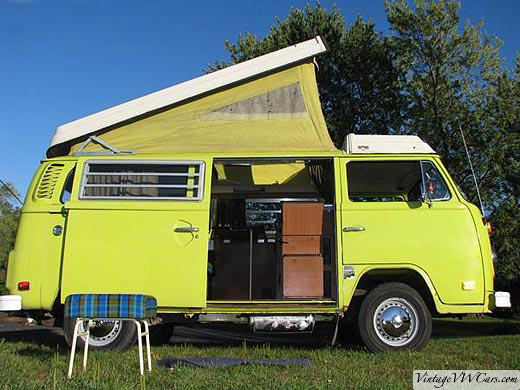 I have a nice 1974 VW Westy Pop-Top Camper bus for sale. Decked out in Yosemite Yellow with a blue and green plaid interior. It has a sink, a stove, and a refrigerator. It is the first model year with a full bed up top in the pop-top so this one sleeps 4 adults comfortably.
This VW Westy pop-top bus is in great, original condition. It has been owned by the original owner up until last Fall. The original owner was in the navy and back in 1974 he special ordered this pop-top Westy and then went out to sea. When he came back a year later the bus was waiting for him at the dealership. This one was ordered without a cabinet in the back so there is more room for the bed.
I was planning to keep this one for myself but some things have come up so I'm offering it up for sale. It comes with all receipts since new. It's all original paint, except the nose and front doors were painted a long while back (probably to fix paint chips). There is no sign of any accidents ever and the bus is nearly rust free. It's a great example of an original Westfalia pop-top camper.
Call with any questions. Thanks!
John Snell - 612-805-2428
Located in Minneapolis, MN USA
Find more buses for sale
head on over to the VW Buses for Sale page!
Beetles, Bugs, and Buggies oh my!
....and Ghias and Porsches of course too on the VW Cars for Sale Page.
Hey, if you liked our vintage VW cars and buses please give us a 'Like'