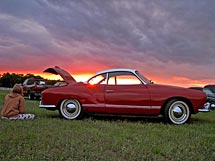 by: John Snell X
I've been into Volkswagens since I was a young teenager at my Uncle Jerry Coffin's car shows. For those of you who don't know, my Uncle Jerry owns a wide variety of classic Volkswagens including three 1952 VW Beetles. The license plate on his orange 1973 VW Thing reads VW Nut. I've picked up the bug and at last count I had somewhere in the neighborhood of 17 classic cars!
Recently I started selling classic cars for a living with my business Sunset Classics. Now I'm able to buy even more interesting classic cars than ever before! At the last Bug-In (our local yearly air cooled Volkswagen show) I watched a red and white 1960 Karmann Ghia for sale. I liked it right away because it looked old. It was red with a white top and it had wheels on it that looked as if they could be the original ones from the factory.
I soon found out that the owner Larry (fortunately for me we can also refer to Larry as the seller in a bit here) had picked up the old VW from the family of the original owners in the 1980s. This 1960 Karmann Ghia had been sitting in a barn for many years as the engine had flung a rod after only 20,000 miles (do your valve adjustments friends!). Larry was parts manager for a VW dealership at the time and he rebuilt vw engines professionally. So Larry bought the car and he rebuilt the original engine.
Since the car only had 20k since new he felt guilty adding miles to it. He said he didn't drive it more than about 10 miles in 20 some years he had it! He was rightfully impressed by the 20,000 actual miles and he continued the work of keeping this a low mileage car. He had trailored it the 70 miles to the VW show that day but he drove it off the trailer and the car ran like a dream. It had the kind of motor that would pop off the second you hit the key. Karmann Ghias still had a manual choke in 1960 so at the show Larry would just reach in through the open window, pull out the choke a bit and start the car right up for anyone who wanted to hear his rebuilt 36 hp engine purr.
The adventure I am writing to tell you about is when I went down to Lake City to buy the Ghia the following week. I had put money down at the show but because I didn't have $4000 on me we had to reconvene.
Now typically I am a very fortunate soul. As a result I often lean on my luck a bit more than your average Joe. When I went to buy the car from Larry (who lived about 70 miles away in Lake City, MN) I didn't rent a car trailer. Instead decided it would be more adventurous to drive it the 90 miles back to my house in Minneapolis. And as the more experienced car fanatics will predict, it did indeed turn out to be an adventure...
I rounded up my girlfriend Kaily and she and I got to Larry's house around 6pm. We all walked around the little sports car for a closer look one last time before closing the deal. Most folks here in Minnesota are real up front, so the owner showed me a few quirks and tricks with the electrical system. The car was still 6 volt and if you pushed on just the right spot inside the voltage regulator after starting the car the battery light on the dash would go out and the car would charge.
"That aughta work" I said to myself.
There was only one working headlight but I figured that should be enough to make it home. The rebuilt motor ran so well that I figured we could probably make it home with no troubles at all. I paid for the car and then Kaily and I caravanned about 1 mile to a nice restaurant overlooking Lake Peppin, a scenic area where the St. Croix River forms a lake dividing Minnesota and Wisconsin. It was about dusk when we finished our relaxing and scenic outdoor dinner.
After getting in the car I pulled the manual choke and as always the '60 Ghia started right up. Kaily got into her safe and silver '02 Taurus. We pulled out onto the highway and headed up toward Red Wing. To be on the safe side I waited to turn my headlights on until it was absolutely necessary as to save on the poor charging system. But as it got darker I eventually pulled the ivory headlight switch out. I was confused when even after turning on the headlights oncoming cars were still flashing their lights at me.
"Yeah, I know I only have one headlight. What am I supposed to do about it?" I futilely ask cars as they whizzed by.
But by the time we got to Red Wing my visibility was bad enough and enough cars had blinked their lights at me that I pulled into a parking lot to investigate. I did a U-turn to face Kaily and her Taurus and with my head out the window I yelled,
"Is my headlight working?"
"Nope." She answered with a frown.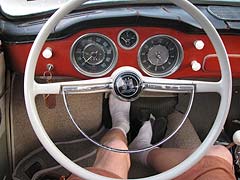 Hmm. I looked at my watch. 9pm. If any auto parts store had been open this late on a Friday they would have probably just closed. So with no other choice We parked the Ghia on a nearby street and began to drive around Red Wing in the Taurus with the unlikely hope of looking for any place that might have a round headlight for sale.
After driving past a few dark auto parts stores we found a well lit Target Store! So with high hopes we walked in and checked the automotive section. Only halogen bulb replacements were displayed and that's when it hit me that not only do I need a round headlight, but I need a 6 Volt headlight! Our chances were already slim! We asked the Target check-out ladies if there was another place to try (and we also got a recommendation on a place to spend the night just in case).
We were told that there was a Wal-Mart just up the road so with pretty low hopes we headed up the hill to "Wally World". Then it dawned on me that a 6 volt bulb would blow in a 12 volt car but a 12 volt bulb might light up a bit in a 6 volt car. I called local VW enthusiast Pete Schow and he said he's put a 12 volt bulb in a 6 volt motorcycle and it lit it up to a soft glow. "That's all I need to get home" I told 'em and I went into Wal-mart with a renewed sense of hope. We found two round, 12 volt bulbs and before long we were back at the Karmann Ghia.
We had left the Ghia on the main strip and when we got back I went into one of the three bars on the block to ask for a screwdriver. I needed it. The bar tender gladly handed over the tool and before long I was removing the pre-61 black headlight rings to get at the headlights. The screw that held in the driver's side headlight broke but I was able to hang the bulb and ring on the notch at the top of the housing and said "good 'nuff". I tried the headlights and both bulbs lit up enough so that oncoming traffic would eventually see that I existed.
We gave the screw driver back and with half of the bar population watching I jumped in the car and hit the key. Nothing. So, with a dead battery and half of the bar population, Kaily in her mini skirt pushed me and the car into a U-turn for a run down hill to pop the clutch. VroooOOOooom! I set the emergency brake and I stepped out of the car to accepted applause from the Red Wingians. As I was congratulating Kaily for her high-healed pushing efforts the car died. I could tell by the way it quit that it had run out of gas. MAN!!
"Can't we catch a break" I asked?
Then I remembered 1960 is possibly the only year Ghia with a fuel gauge and a reserve lever as standard equipment. I jumped in, flipped the reserve lever, got some help pushing the car back up the hill, and with one more free ride down the street lamp lite hill I was back running again! I drove 2 blocks to the nearest gas station with no headlights to try to charge the battery a bit. After filling up I directed Kaily to follow me and we were finally headed back toward Minneapolis!!
What a relief. I pulled out of the gas station parking lot and pulled the lever for the headlights - the car died again! I could push the switch back in and the car would purr along just fine. There wasn't enough battery juice to light the very dim headlights and supply enough spark for the spark plugs! Boy.
SO CLOSE!!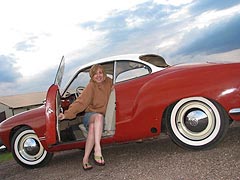 I directed Kaily to lead the way back to Wal-mart and I followed her while alternating flipping on the headlights and coasting and popping the clutch and driving with no lights. We made it to Wal-Mart without getting pulled over or hit and I stayed with the running car while Kaily went inside with the nearly impossible task of finding a new 6 volt battery. She came out 20 minutes later frustrated with the slow help and disgusted by the teenagers who "whooped" at her as she left the store.
No 6 volt batteries for sale (even though the sales clerk had insisted on looking over and over for one). But the car had been idling like a champ, the generator light had stayed off, and I was ready to try our luck again with headlights. We left the city and the street lights, and with Kaily and the Taurus following my newly acquired Ghia, we made the final 65 miles without a hitch. We pulled the precious and very obliging Karmann Ghia into my garage just after Midnight and finally took a moment to appreciate the low mileage, original car.
There were two owner's manuals in the car. They showed that the car was purchased in Germany by a US Serviceman. It showed records of the first few oil changes (but no valve adjustments). There was a manual written in German also. The seats were almost perfect. The door panels were stuffed in the rear seat but they were in great shape. The car still has its original tires from when it was new in 1960! What a find...
Since that crazy night Kaily and I have installed new carpet in the Ghia and reassembled the interior. We showed the car for the first time at the Chippawa Valley VW show (although the rear window blew out on the drive there! Then it was promptly run over by Rich and Susan and their SUV and by the bug they were towing). But the car made the drive there and back just fine.
For photos of this unique and rare piece of VW history you can see more in our VW Gallery. It's a beautiful car and its rich history makes it one of a kind. It still steers and drives like a new car! And since I happen to have a '62 Ghia parts car with a good back window and molding I can say that my good luck continues, even if it comes in the form of harmless, fun and memorable misadventures.
Hey, if you liked our vintage VW cars and buses please give us a 'Like'