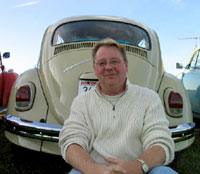 by: Patrick Sills
As a member of a car club I often wonder what inspires others like myself to join such an organization.
Certainly the camaraderie, the sense of being part of a big family, is an important factor. The club I belong to is devoted to all Volkswagens, old and new. The question for others fascinated with these cars is, What got us interested in Volkswagens in the first place? There are probably as many stories of inspiration as there are dandelions in my front yard every Spring. With that said, here is mine.
I was born in 1959, and my memory goes as far back as 1962, when I was about two and a half years old. In those days generally only one parent was the breadwinner, as was the case with my father. We only had one car, and besides, my mother didn't know how to drive. The car we had was a 1957 Oval Window Beetle that was purchased "new" in Kansas City, Missouri.
I say "new" because at that time there were waiting lists much like there would be forty-one years later when the New Beetle first hit showrooms. Back in 1957, my father's 1946 Chevy was worn out and he started his search for a new car. He became interested in Volkswagens after reading about them in the popular publications of the day.
A good ten years before hippies would exercise the concept of nonconformity, my father decided that he wanted a car that would stand out from the usual gigantic, tail-finned, gas-guzzling dinosaurs that roamed the streets during that period. It cost less,too. For a tad over $1700 he acquired a salesman's demonstrator with just a few kilometers showing on the odometer. Yes, kilometers (for those of you US readers). This was a European-spec model, complete with semaphore turn-signals (literally, for those not familiar with Volkswagens, an arm that flapped out of the side of both doors that flashed, indicating which direction the driver intended to turn)as well as one-piece bumpers. (US-spec models had overriders.)
Thanks to my father, I knew the difference between miles and kilometers by the time I was just five years old. It was amusing to watch my friends gasp as we would cruise down the highway at 62 miles an hour while they thought we were going 100.
It would be many years before I would start driving, but I knew that I would be driving a Volkswagen someday. When I was in elementary school in the mid and late 1960's, the Muscle-Car Era, the boys in my classes would argue which cars were better, depending, of course, on what their fathers drove. Most of the time it was Mustang vs. Corvette vs. Charger vs. GTO.
I got many laughs when I contributed Volkswagens to the debates, but I didn't care. I thought the "bug" was better-looking than any of those cars, and I still do. I didn't and still don't care about 0-60 times. It has been said that beauty is in the eye of the beholder, and VW owners can all concur.
Sadly, in 1970, after 13 years of dependable service and about 257,000 kilometers (160,000 miles,) my father had decided that it was no longer cost-effective to keep the car. Many trips to Oklahoma and the perpetual road salt that covered highways during Midwest winters had taken their toll, and when the amateur patching of bodywork no longer helped it was time to say good-bye to our Beetle.
A salvage yard offered a mere $25 for the VW, so my father gave it to a friend to use as a parts car. I vividly remember fighting back tears as the friend gave us a ride back to our home. It was as if we had lost a member of the family, and as far as I was concerned we had.
I got my Drivers' License in 1976, but I was in a hand-me-down Ford Maverick. Considering the manner in which I drove at 16, it's nothing short of a miracle that I am alive to tell this tale nearly thirty years later. Moving on to 1978, I at last had my own Volkswagen, a 1971 Super Beetle. In the early 1980's I had two more Beetles.
In 2000, after trying various other makes I longed for a VW again and bought a 1996 Golf, followed by a 1969 Beetle three years later. Up to that time I was the only member of our VW club who did not own a classic air-cooled model from the early years. In nearly 46 years of life in this world, I have calculated that 22 of those have been with a Volkswagen.
I have reached the point of no return now. I will always own a VW of some sort. My 8-year-old daughter has already picked her first car; a New Beetle. Kids have a tendency to change their minds quite often as new interests are acquired, but in this case, I don't think she will. It runs in the family.
Pat Sills is an avid Volkswagen enthusiast and writes articles and feature stories for his club's Newsletter. His first novel, REUNIONS, was published in March, 2005. Check it out at: authorsden.com/patricksills
Photo courtesy Authorsden.com & Patrick Sills
Hey, if you liked our vintage VW cars and buses please give us a 'Like'