---
Below we feature some of the great Volkswagen Buses we've recently sold
For a complete gallery view and more info about each bus visit our Cars and Buses Sold Gallery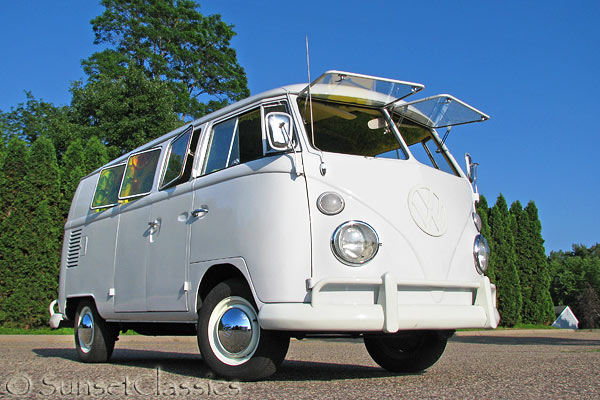 The first Mello Yellow bus is ready for sale! This is a freshly restored 1966 VW Walk Through Bus. One of two VW Buses we rented for a Nation Wide promotion for Mello Yellow lasting several summers. The other was a 1966 Bench Seat bus, you can see the pic of them together in full Mello Yellow decals above.

After $11,000+ of metal work, body work, paint and more this '66 split-window is ready for you to customize how you'd like - or enjoy as is. This bus still has the super funky shag interior from the promotion - look for her in our VW Bus photo gallery page to see her in full '60s style glory! - SOLD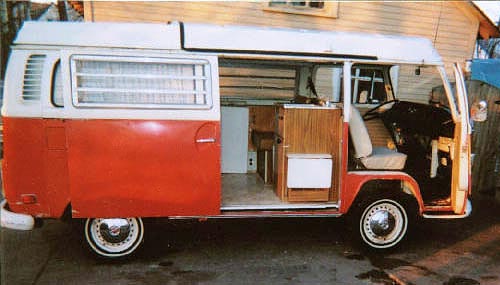 Restored 1972 VW Westfalia Camper SOLD by Vintage VW Cars. Super fun for camping! Pop Top California Van with No Rust! Only had 94k miles on it. It was stored indoors for 10 years prior to Vintage VW Cars purchasing it and refurbishing the brakes (Hoses, calipers, shoes, pads, lines) and giving it a good 1600cc engine with a double-barrel Carborator & header exhaust system and switching the canvas for the pop top (which included sewing a moon and a star into the fabric). Had a pop top, good canvas, ice box, sink, closets, and brand new tires.

1965 VW Bus for Sale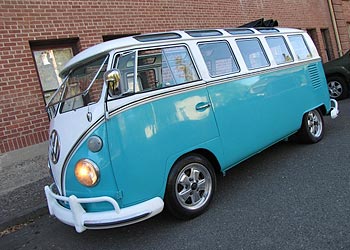 Beautiful 1965 VW Bus with very nice interior, Nice & Solid California Body, Desireable Sun Roof and Skylights. Click on the Title for more details
1973 VW Sportsmobile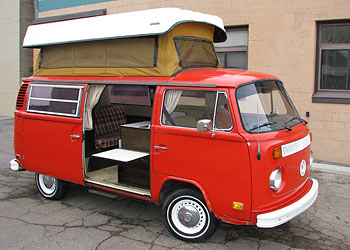 Very nice, mostly original 1973 Sportsmobile VW Camper Bus. This is a super rare
Automatic VW Bus!

1964 21 Window Samba Bus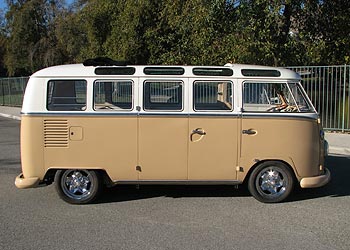 Beautiful California 21-Window Deluxe bus with front safari windows!
1961 VW Split-Window Bus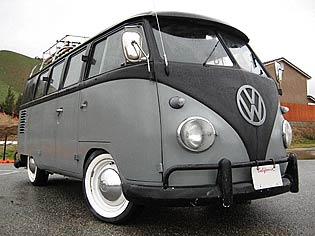 Solid Cali bus, Rebuilt Engine - Runs Great!

Check out the VW Buses Sold Gallery for more photos and details of the buses John has sold.

Classic VW Hippie Bus
Classic VW "Shorty" bus. Shag carpet, classic Hippie Flower Power Bus!
1961 VW Kombi Microbus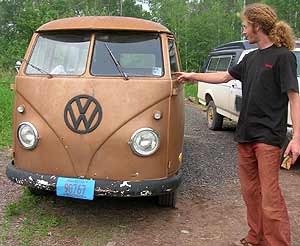 Click the Gold Bus for Details and more pictures of this VW Kombi bus

Lowered 1958 VW Bus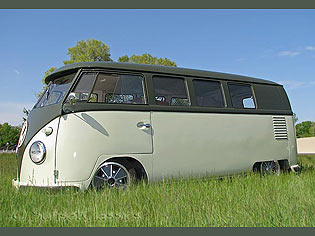 Pressed bumpers, Nice Paint, Lowered, BRM wheels, 2180cc Engine! Fast, Low and and a TON OF FUN!
1959 Double Door Van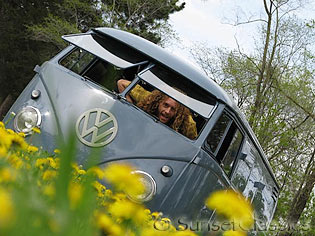 Sneak Peek! 1959 VW 7 door Van from the private collection of John Snell. (that's me!) 36 hpr engine, Crash Box Transmission, Bias Ply Firestones and Safari Windows. SOLD

1966 VW Deluxe Bus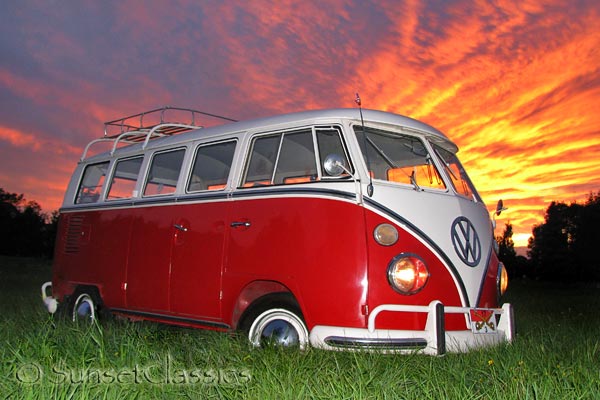 Fast fun 13-window VW Bus barn find. This 9 Passenger Van Sports a 1950cc engine.
1966 VW Slider Bus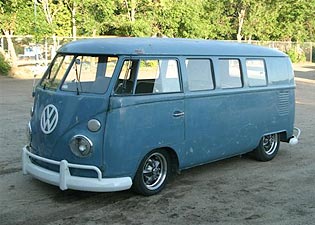 Hard to find 1966 VW Bus with factory Slider Door. Another cool lowered VW van find!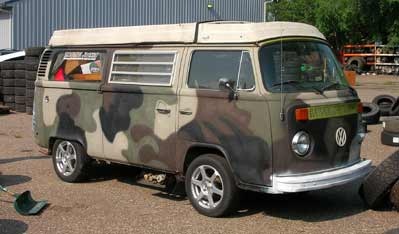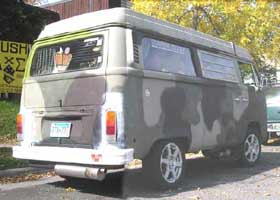 1976 VW Westfalia Pop-Top Camper Van.
Hey, if you liked our vintage VW cars and buses please give us a 'Like'
Check back often for more Vintage Volkswagens for Sale

© Copyright John Snell X 1999-2015, Vintage VW Cars LLC All Rights Reserved.