We'll Help You Find a Vintage Volkswagen Bus
or VW Camper Van today!


From time to time I like to sell a vintage bus or two. (Look below for the newly finished 23-Window Samba!!) So before you spend hours searching for a bus on Craigslist take a look at what I have available here. I am always on the look out for a good project or restored bus and I have been collecting, restoring and selling VW's for over 20 years. VW buses are getting harder to find and that, combined with their desirability, is making them very collectible. If you are new to collecting classic VW buses let me know how I can help you find the right bus for you. And if you have any type of VW bus you'd like to sell in 2014 feel free to run it by me! 612-805-2428.
Right now is a perfect time to get your classic Kombi ready for next seasons road trips. One of our last happy customers thought so too as she took home our beautiful 1973 Bay Window camper bus VW "Weekender". I recently sold my own 1959 Double Door Panel van as well so if you love VW bus photos there is plenty to see here. But, if you don't picture yourself driving one of our buses check out a featured VW Bus for sale on eBay.
An old Volkswagen Type 2 microbus really brings out a nostalgic feeling in all of us and even if you didn't grow up with one they are easy to fall in love with. Now is a great time to buy a VW bus because the values are going up (While it is harder and harder to find a VW bus for sale for cheap your best bet is the selection of VW Bus auctions with no reserve at right)
Sit back and enjoy the fine selection of vintage Volkswagen buses we have featured, buy your next VW Bus, then pack your camping gear and hit the road!

Our Classic Buses for SALE
(Check out our current selection of Volkswagen buses and camper vans)
1961 23 Window VW Bus for Sale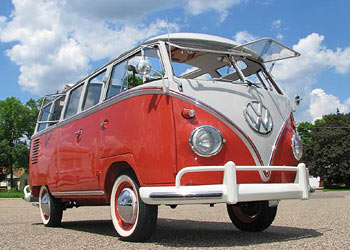 It is Finally Done! I bought this Samba back in 2010 - after raising the funds for a year and treating her to a full 2.5 year rotisserie restoration this beautiful 23-Window Deluxe bus is up for sale! I don't think there is a nicer VW 23 Window Bus out there for sale. Full listing coming soon - call today to be the new lucky owner of this Barrett Jackson quality bus! - John Snell 612-805-2428 (Watch the Video Above!) . Asking $155,000

1966 VW Walk Through Bus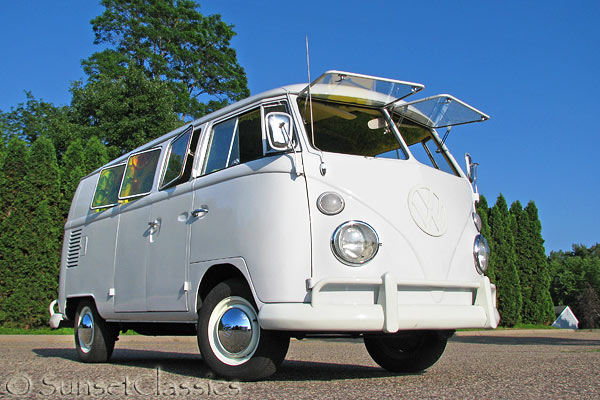 The first Mellow Yellow bus is ready for sale! One of two VW Buses we rented for a Nation Wide promotion for Mellow Yellow. After $11,000+ of metal work, body work, paint and more she is ready for you to customize how you'd like - or enjoy as is. This bus still has the super funky shag interior from the promotion - click the title to see her in her full glory! - SOLD

1963 23-Window VW Bus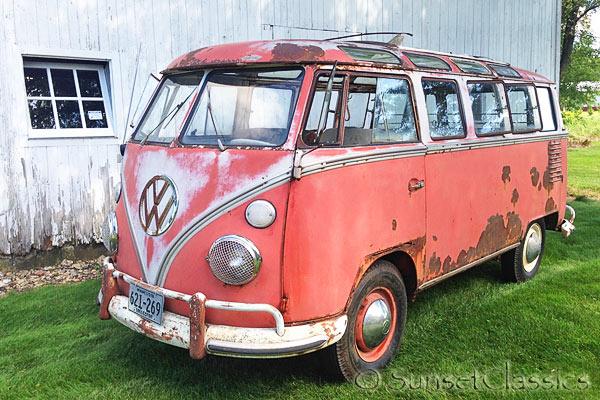 It's 23-Window Bus Time! Our second 23-Window Deluxe bus could use a nice restoration to really up the value but she can be enjoyed as is because she has new brakes, tires and a rebuilt front beam - Runs and Drives Great! Restored this bus could fetch close to $200K! SOLD
Need a little restoration inspiration? Take a peep at this video on VW Camper Van interiors below.. Happy Camping!
Doing your own VW Bus Interior renovation
- check out this Guide to VW camper conversions by VW Camper van enthusiast David Eccles (Editor of Volkswagen Camper and Commercial magazine).
The updated version of his popular manual on VW interiors highlights some pretty fantastic and inspiring camping conversions. If you are thinking about doing your own custom bus interior this is a great source of ideas.