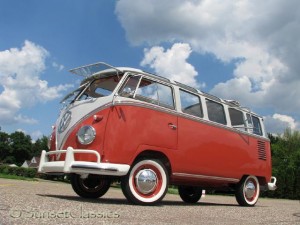 Welcome to our Vintage VW Bus auction section where you can find all the best VW buses for sale on eBay. Well of course not as nice as the fine buses we occasionally have for sale, but if you can't find a vintage bus you want on our VW Buses for Sale page then this is the next best place to look.
We have sold a ton of microbuses over the years, you could say we had a plethora of buses, and every one has been hard to part with - is there such thing as a VW bus addiction? If you love classic VW vans then I'm sure you will have as much fun looking for your next bus as we do.
VW pop-top buses and campers are really hot right now on eBay (pretty much any time camping season rolls around) so there is a good selection of great camper buses listed here for sale, and a good chance you'll fall in love with each and every one. It is eBay of course so there is always everything from un-restored original split-window Kombi's to rare pristine showroom quality 23 window deluxe buses (we recently sold the beautifully restored '61 shown above) to wild and crazy custom painted art buses.
So where ever your Volkswagen bus passion lies you'll find a great sale on a VW bus that is just your style. Have fun!