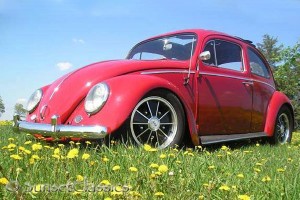 Welcome to our Classic VW Beetle auction section where you'll find some mighty fine classic VW Beetles for sale from good 'ol Beetle enthusiasts around the US. The glorious Volkswagen Type 1 how we love you so. Whether it is a fine ragtop Beetle, a fantastic Oval Window Beetle, or a super Super Beetle you'll find one that fits perfectly in your garage up for auction here.
We've sold quite a few mighty fine classic Beetles these past years ourselves like a super sporty 1963 ragtop Beetle, and a fantastic 1956 Oval Window Beetle but we may not always have just what you are looking for. Well chances are eBay does - as every VW lover knows you'll find one that fits your style up for auction any time day or night.
I know I have - I just bought a 1977 Super Beetle Convertible! Although I seem to collect them like matchbox cars, and I'm running out of room. Yowza!
For those new to the vintage Volkswagen scene the VW Beetle was the longest-running and most-produced automobile of a single design (although the VW Kombi or Type-2 Bus may beat that record soon, seeing as it is still in production in Brazil...) Regardless, in the international poll which awarded the world's most influential car of the twentieth century the Beetle came fourth after the Ford Model T, the Mini, and the Citron DS - not too shabby eh? If you aren't already a member of the air-cooled Beetle gang perhaps today is the day - place a bid and buy one of the Classic VW Beetles for sale below - we'll welcome you to the club!
As always, have a great day from the air-cooled kids at Vintage VW Cars.