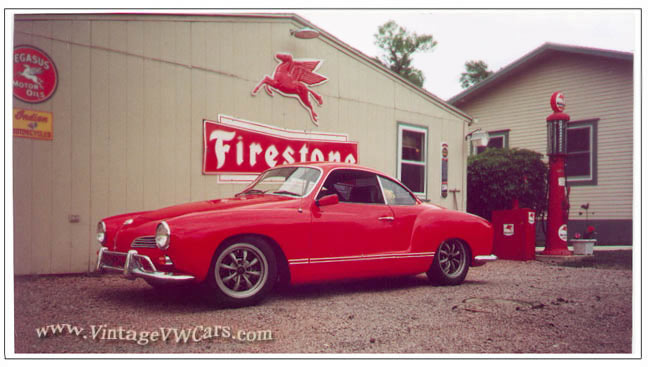 1968 VW Karmann Ghia SOLD (All of these cars are sold. See "Cars for Sale" for current selection.)
1776 engine - just the perfect size for zoomy daily driving (40mm dual carbs). California Ghia brought to MN in 2000 - stored winters since. Brand new windshield and rubber and chrome and brand spankin new tires. Has CD player with 6 speaker sound system. Paint is very nice except for some scratches in the hood. Interior is really fancy. Black carpet, correct '68 only seats, painted dash face (red), new dash pad, full seat belts, custom black velour rear seat. Lowered with anti-sway bars all around.
---
John has sold the following VW Beetles, Ghia and Things:
Some links open into Sunset Classics John's new classic car selling adventure
---
Hey, if you liked our vintage VW car photos please give us a 'Like'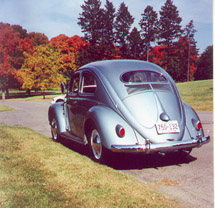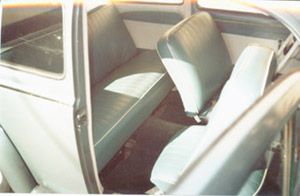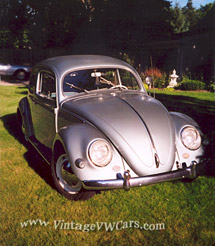 1956 Oval Window VW Beetle
Beautiful 1956 VW Beetle for sale. Great condition. Looks like new! Has only 63,000 original miles! Paperwork and documentation from the previous owners comes with the car. Original 36hpr engine runs like a real champ. The car has a LOT of pep. We've taken the car on some Vintage VW Cruises and left the other 36hprs in the dust! The little bug still runs its original 6 Volt system. Spent most of its life in California.
My girlfriend bought the car in the year 2000 with only 57,000 miles on the ticker. The interior has new carpet, new headliner, new seat upholstry, and a restored stearing wheel (Not shonwn in photo! The wheel is not perfect, has some paint runs. Looks good though). The dash board has never been painted or cut, and it still has the original dealer-installed radio. The exterior was repainted the original color some time before we took ownership.
There is no rust on the car, and it is in super mechanical condition. We drove it to the Detroit Vintage Show this spring with NO PROBLEMS WHAT SO EVER. That was nearly a 1700 mile trip! (It was a real sad sight watching the odometer pass 60,000!) Not original are the following: The hood has the raised VW emblem, correct for early 60's.
Tires are radials in good condition, but are not the original bias ply. Engine runs a 009 distributor. Door panels are 1958 style. The front apron has been replaced. None of these things are anything your girlfriend would notice.
---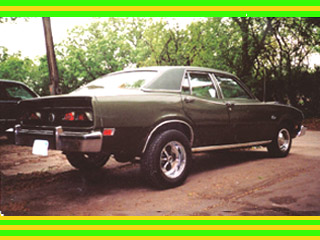 1975 Mercury Comet
48,000 original miles. Was in storage for many years. Recently re-introduced to the roads. Brand new vinyl top.
Kregger mags available. Perfect interior.
Runs GREAT! Great daily driver.
---
Buy your next Classic Volkswagen today!
Listed below are current vintage VW auctions for your viewing and buying pleasure.
Looking for even more vintage Volkswagen photos?
Check out the Vintage VW Bus Photo Gallery!