Featured Vintage Bus Video
1961 21-Window VW Bus from Vintage VW Cars
From time to time I like to offer a vintage VW bus for sale (or two, or three.. I can't stop adding them to my collection, but I'm running out of room!). (Look below for the newly finished 23-Window Samba!!) So before you spend hours searching for a bus on Craigslist take a look at what I have available here. I am always on the look out for a good project or restored bus and I have been collecting, restoring and selling VW's for over 20 years.
VW microbuses are getting harder to find and that, combined with their desirability, is making them very collectible. If you are new to collecting classic VW buses let me know how I can help you find the right bus for you. And if you have any type of VW bus you'd like to sell in 2018 feel free to run it by me! 612-805-2428.
Right now is a perfect time to get your classic Kombi out for this seasons road trips. One of our last happy customers thought so too as she took home our beautiful 1973 Bay Window camper bus VW "Weekender".
I recently sold my own 1959 Double Door Panel van as well so if you love VW bus photos there is plenty to see here. But, if you don't picture yourself driving one of our buses check out a featured VW Bus on eBay in some of our featured bus auctions.
An old Volkswagen Type 2 microbus really brings out a nostalgic feeling in all of us and even if you didn't grow up with one they are easy to fall in love with. Now is a great time to buy an air-cooled VW van because the values are going up (While it is harder and harder to find a cheap VW bus your best bet is the selection of VW Bus auctions with no reserve below)
Sit back and enjoy the fine selection of vintage Volkswagen buses we have featured, buy your next classic Bus, then pack your camping gear and hit the road!
I have a unique opportunity for you - have a 1966 21 Window Bus finished the way you want it! I have a number of restoration projects going so I tried something new with a previous project - let the buyer have final say on finishing the bus. It was a fun experience for both myself and the new owner so I am doing another one.
The bus up for sale is a rare 1966 21-Window walk-through sunroof model with front bucket seats allowing you to walk from the front all the way to the back of the bus. All rust repair is finished so all that is left is some body work and choosing the interior and paint colors.
Click for more photos and information! Contact John at 612-805-2428 or john @ sunsetclassics.com
This cool '65 project Bus was recently sold to a new owner who will potentially bring her back to life! The engine is an H code engine that looks to be numbers matching. The bus starts and runs and shifts but will need work to be a daily driver, and the bus will need brakes. But it runs well enough to make it on to a transport. The emergency brake works.
Record sale prices on these split window VW Buses are helping a lot of these cool old buses to get restored and preserved. I had this in line to restore but I had fund two other Bus restorations. I have restoration contacts so if you wanted to make this a $50k+ Bus I can help. Worldwide shipping available. Solid frame! I have over 100 detailed photos for you to view. Check it out! Thanks for looking!!
VW Camper Bus Auctions
Are you looking to buy a bus? One Bid Could Take these Classic Kombis Home!
Our Classic Buses for Sale
(Check out our current selection of Volkswagen buses and camper vans)
1961 23 Window VW Bus for Sale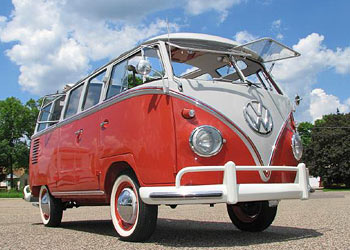 It is Finally Done! I bought this Samba back in 2010 - after raising the funds for a year and treating her to a full 2.5 year rotisserie restoration this beautiful 23-Window Deluxe bus is up for sale! I don't think there is a nicer VW 23 Window Bus out there for sale. Call today to be the new lucky owner of this Barrett Jackson quality bus! (Watch the Video Above!) SOLD

1959 VW 23-Window Bus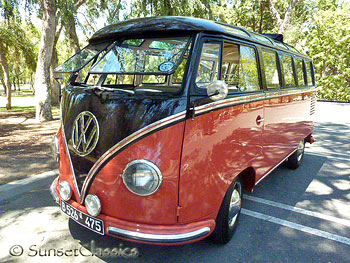 This is one awesome looking European Model '59 Deluxe Bus. Features all the cool options you love in an old bus: Semaphores, pressed bumpers and pop-out Safari Windows! This is a number's matching restored Deluxe bus.

1960 Volkswagen Double Cab Drop Gate Pickup Truck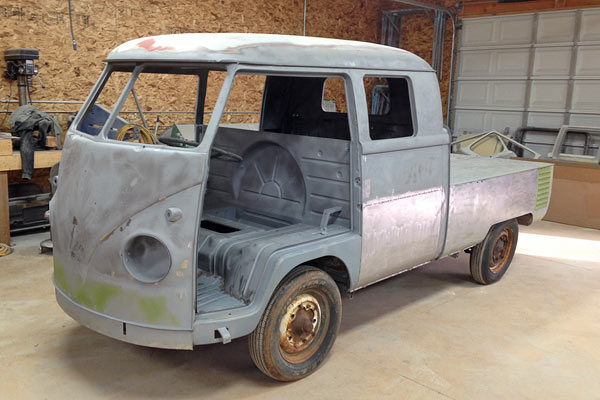 Complete Restoration underway. Reserve this show/museum quality pickup now and you can have it finished in the color of your choosing. Originally Light Grey. Very rare, early model. This is at the same shop that restored the1961 23 Window Bus that recently sold from this Web Site and the '57 23 Window Bus featured in the January Issue of Hot VWs! Call John at 612-805-2428 for more info.
Need a little restoration inspiration? Take a peep at this video on VW Camper Van interiors below.. Happy Camping!
The Midwest's best VW restorer Jeff Gagnon of Vintage VW restored this bus over a 5-year period from 2005-2010. After a complete rotisserie restoration with extreme care and love from a true VW enthusiast you can really see how well this very collectible bus turned out.
A new 1776cc engine was installed about 300 miles ago and the bus has about 1500 miles on it since the resto was finished. Originally Chestnut Brown over Sealing Wax Red, this bus was painted the '58 and later colors Beige Grey over Sealing Wax Red to really make that red pop.
I have hundreds of photos upon request - let me know if you have any questions about the bus and we'll help you add a very nice 23-Window to your collection! Take a look at the matching 1957 Oval Window Beetle on our VW Beetle page as well.. Call John Snell for more information 612-805-2428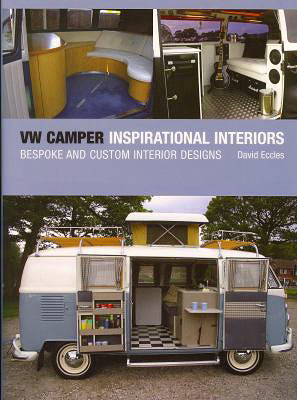 Doing your own VW Microbus Interior renovation - check out this Guide to VW camper conversions by Camper van enthusiast David Eccles (Editor of Volkswagen Camper and Commercial magazine). Click the book photo to the right to see it on Amazon.
The updated version of his popular manual on VW interiors highlights some pretty fantastic and inspiring camping conversions. If you are thinking about doing your own custom bus interior this is a great source of ideas.
Are you restoring your own vintage bus or single cab? This guy Mario "The Artist" is a pro custom painter and he released his personal collection of step-by-step videos. You won't believe how this one simple trick will Save money and most of all Time giving your bus the best paint in this fantastic DIY training. Click da pic and get ready to call Barrett Jackson!
2 1966 Split-Window VW Buses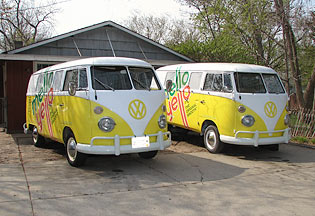 I had the super fun opportunity to rent out 2 1966 split-window VW buses for a 3 summer long Mellow Yellow Promo tour. A bench seat bus and a walk through bus! They were both beautifully restored and have found new homes with a couple lucky bus fans. (Pssst see the Walk Through below the featured auctions just below this image!)
---
Below we feature some of the great Volkswagen Buses we've recently sold. For a complete gallery view and more info about each bus visit our Cars and Buses Sold Gallery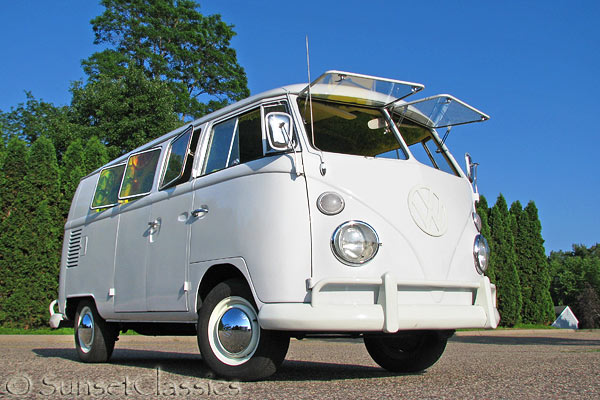 The first Mello Yello bus is ready for sale! This is a freshly restored 1966 VW Walk Through Bus. One of two VW Buses we rented for a Nation Wide promotion for Mello Yello lasting several summers. The other was a 1966 Bench Seat bus, you can see the pic of them together in full Mello Yellow decals above.
After $11,000+ of metal work, body work, paint and more this '66 split-window is ready for you to customize how you'd like - or enjoy as is. This bus still has the super funky shag interior from the promotion - look for her in our VW Bus photo gallery page to see her in full '60s style glory! - SOLD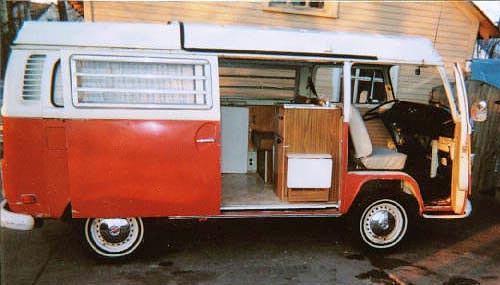 Restored 1972 VW Westfalia Camper SOLD by Vintage VW Cars. Super fun for camping! Pop Top California Van with No Rust! Only had 94k miles on it. It was stored indoors for 10 years prior to Vintage VW Cars purchasing it and refurbishing the brakes (Hoses, calipers, shoes, pads, lines) and giving it a good 1600cc engine with a double-barrel Carburetor & header exhaust system and switching the canvas for the pop top (which included sewing a moon and a star into the fabric). Had a pop top, good canvas, ice box, sink, closets, and brand new tires.
1965 VW Bus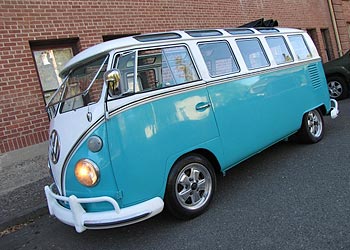 Beautiful 1965 VW Bus with very nice interior, Nice & Solid California Body, Desirable Sun Roof and Skylights. Click on the Title for more details
1973 VW Sportsmobile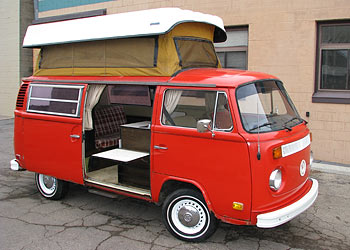 Very nice, mostly original 1973 Sportsmobile VW Camper Bus. This is a super rare
Automatic VW Bus!

1964 21 Window Samba Bus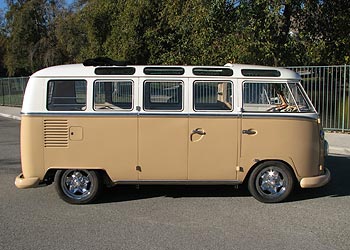 Beautiful California 21-Window Deluxe bus with front safari windows!
1961 VW Split-Window Bus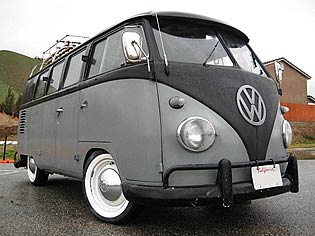 Solid Cali bus, Rebuilt Engine - Runs Great!

Check out the VW Buses Sold Gallery for more photos and details of the buses John has sold.

Classic VW Hippie Bus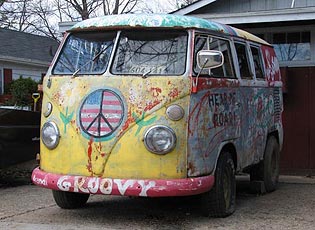 Classic VW "Shorty" bus. Shag carpet, classic Hippie Flower Power Bus! It is so much fun finding these cool VW art buses, there are some very creative Dub loving artists out there who know how to do up a bus right!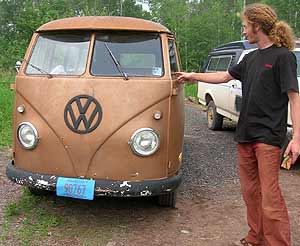 Click the Gold Bus for Details and more pictures of this VW Kombi bus. This special bus was one of our first and will always hold a special place in our hearts.

Lowered 1958 VW Bus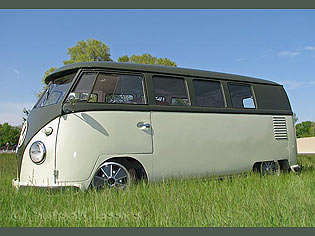 Pressed bumpers, Nice Paint, Lowered, BRM wheels, 2180cc Engine! Fast, Low and and a TON OF FUN!
1959 Double Door Van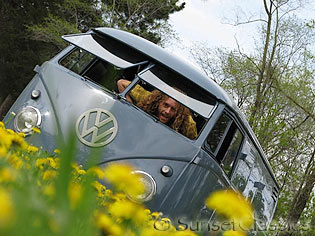 Sneak Peek! 1959 VW 7 door Van from the private collection of John Snell. (that's me!) 36 hpr engine, Crash Box Transmission, Bias Ply Firestones and Safari Windows.

1966 VW Deluxe Bus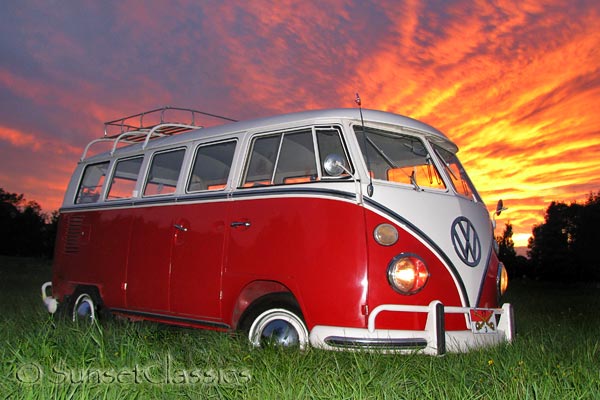 Fast fun 13-window VW Bus barn find. This 9 Passenger Van Sports a 1950cc engine.
1966 VW Slider Bus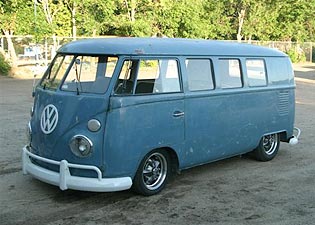 Hard to find 1966 VW Bus with factory Slider Door. Another cool lowered VW van for sale!
Hey, if you liked our vintage VW cars and buses please give us a 'Like'