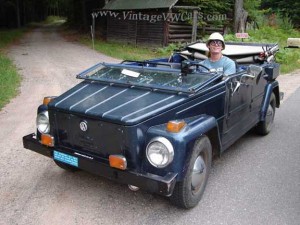 Welcome to our VW Thing auction section where you will find current VW Thing auctions from all over the US. We currently have two 1974 VW Things for sale of our own so be sure to stop by our VW Things for Sale page, but if they are not what you are looking for then this is the next best place to look.
VW Things (VW Trekker in Europe and the UK, or the Safari in Mexico) also known as Volkswagen Type 181 are always in high demand among VW enthusiasts since they were only sold in 1973 and 1974 in the US. The Thing was the successor to the Kubelwagen, or type 82 which was a German military vehicle designed by Ferdinand Porsche and built by Volkswagen during World War II.
The VW Thing is a rugged super fun vehicle to drive that is a unique addition to a serious VW collection or simply a fine around town driver that is sure to get you some attention. There is sure to be a nice VW Thing for sale below with your name on it - you may have to fight for it though they sell fast - so we hope your bidding fingers are nice and limber.
As we mentioned above the type 82 Kubelwagen was a WWII German military vehicle. The predecessor to the Type 181 or VW Thing, the KDF-82 Kubelwagen was only produced from 1940 to 1945 during which a little more than 50,000 were made. A Volkswagen Kubelwagen for sale is a rare find on eBay, but if a Kubelwagen does come up for auction you'll find it below. I do see a few Kubelwagen parts for sale from time to time, but the results below are limited to only eBay motors vehicles for more precise results for vehicle searches. We do have a rare treat of our own for sale for you military vehicle aficionados. Be sure to stop by our VW Thing sale page to see a rare 1962 Mercedes Benz Unimog for sale, a French Military vehicle.
If you have an interest in Kubelwagens or any of the Volkswagen vehicles used in WWII the book "Volkswagen Military Vehicles of the Third Reich: An Illustrated History" was recommended to us. It has over fifty pages devoted to the Kubelwagen alone, as well as great photos and info about the Schwimmwagen and the history of the post war Beetle.
If eBay does have any Kubelwagens for sale they will be listed below.
No items matching the keyword phrase "kubelwagen" were found. This could be due to the keyword phrase used, or could mean your server is unable to communicate with Ebays RSS2 Server.

Good luck in your search for a Volkswagen Kubelwagen or VW Thing and as always, have a great day from the air-cooled kids at Vintage VW Cars.