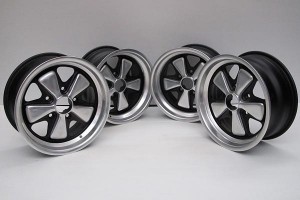 Nothing completes a car more than a great looking set of Porsche wheels. Whether you are looking to fix up a set of original 16 x 8 Porsche Fuchs for your 356 or pick up a new set of custom 22" Porsche wheels for your Cayenne you'll probably find a great sale on ebay.
Below you'll find a search for Porsche wheels which will show all styles of wheels for your Porsche or vintage classic. If you'd like a more specialized search feel free to try a search for Porsche fuchs for your classic, Porsche 911 wheels or your particular style of Porsche wheels below.
From cookie cutter wheels to custom Turismo Porsche wheels I'm sure you'll find them for sale on the good 'ol eBay.
Good luck with your project and more importantly good luck winning that auction! Once you get your ride all fixed up nice don't forget to show it off in our gallery.
As always, have a wicked cool day from the air-cooled kids at Vintage VW Cars.