Are you looking to buy a custom or classic Karmann Ghia? Well then welcome, I may just have one I'm selling that would look mighty fine with you behind the wheel. While Vintage VW Cars is known for their vintage buses I still have a soft spot in my heart for the sporty Volkswagen Karmann Ghia - and I meet a lot of folks who share the passion for these super fun 2+2 coupes and convertibles as well!
From time to time I have the chance to sell one or two and I'll lovingly list these Ghias for sale below. Plus there is plenty of eye candy on eBay which you'll find current auctions for below. If we don't currently have one for sale I'm sure you will find something worth taking a look at. Enjoy, and we'll see you at the next VW show!
Featured
Karmann Ghia Video
1971 Karmann Ghia Cabriolet by youtuber VintageSC73 - that's me!

Featured
Karmann Ghia Auctions
For current Karmann Ghia auctions check out the listings above.
Or head on over to the VW Beetle for Sale page for more vintage VW's!
1964 Karmann Ghia Drive By Video
1960 Karmann Ghia Coupe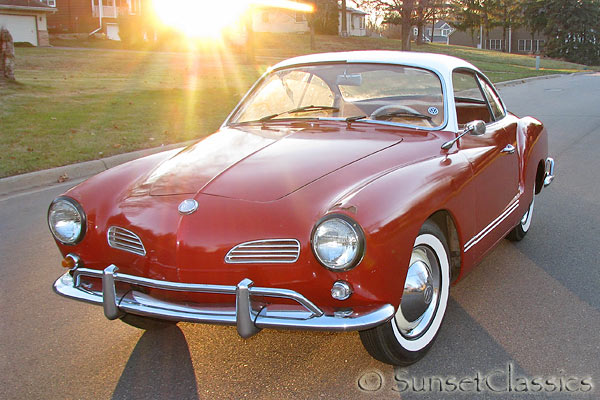 Every once in a while you come across a true classic car treasure - this 1960 Karmann Ghia 2+2 coupe has only 20k original miles! It has a mostly original interior and even wears its original wide white wall tires. As is true with many loved classic cars this one comes with a fun history - take a look at the full story by clicking the pic. Call John Snell 612-805-2428 to add this vintage Ghia to your collection. SOLD!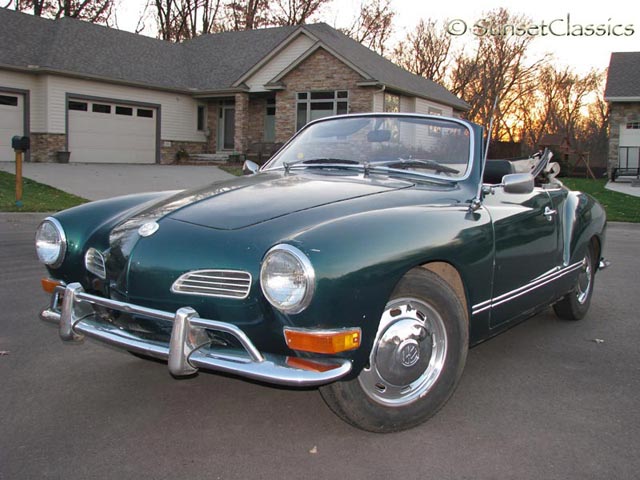 Local MN VW Club owned Karmann Ghia Convertible with a brand new battery, new spark plugs, new spark plug wires, new points, and an oil change and valve adjustment. Check out the listing (click the pic) then call John Snell 612-805-2428. SOLD!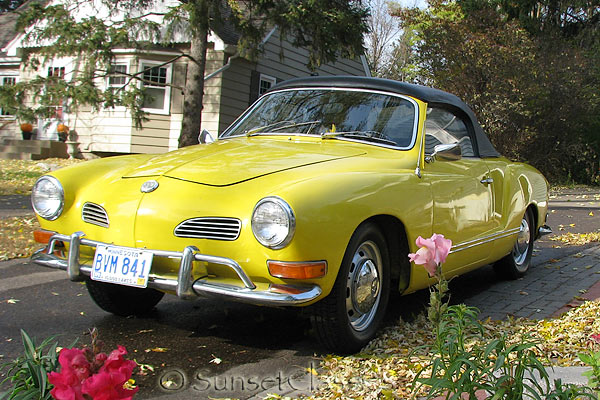 Sweet yellow Ghia for sale - this beauty was a Barn find now runs and drives! New exhaust, brakes, windshield with rubber and chrome, new carburetor. This is a nice, original Karmann Ghia Convertible. SOLD!

1962 Karmann Ghia Convertible
Museum quality resto ready for assembly!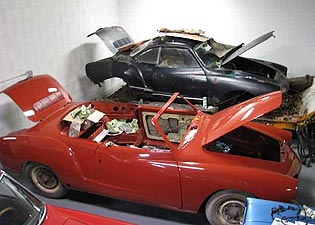 This 1962 convertible Ghia is one of my current projects. I was lucky enough to find a '62 Parts car to help complete the restoration to factory specifications!
Below we feature some of the great classic Karmann Ghia's we've recently sold. For a complete gallery view and more info about each Ghia visit our Cars Sold Gallery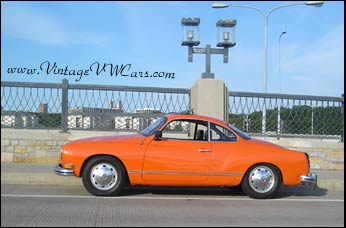 1970 VW Karmann Ghia
This fully restored 1970 VW Karmann Ghia, was one of my favorites for awhile and really a fun car to drive. It sported original Karmann Ghia bright orange paint and freshly re-chromed bumpers! I've been to several car shows and events with this Ghia including "Wings and Wheels" in Oceola, WI, and the Twin Cities VW Club Fall Color Cruz along the Minnesota River Valley.
This Ghia has sold, but there are some great photos on the 1970 Karmann Ghia page you should see!

1964 Karmann Ghia Convertible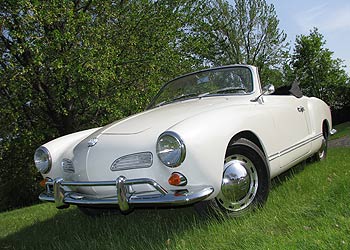 Original Color, numbers matching engine, European Specs with 28,177 original kilometers.
1964 VW Karmann Ghia Video
Take a little walk around this great Karmann Ghia in this mighty fine little video - Enjoy!

1973 Karmann Ghia Convertible
Solid floors, good top, rust free - Runs Great! Stock wheels and new tires since this photo was taken.
1968 VW Karmann Ghia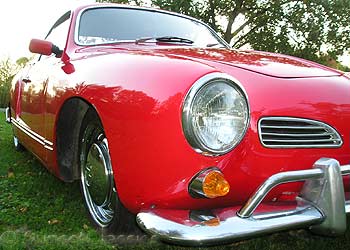 1776 Engine, California car! New windshield, new tires, complete and correct bumpers. Handles great!

Check out the VW Cars Sold Gallery for more photos and details of the vehicles John has sold.

Hey, if you liked our vintage VW cars and buses please give us a 'Like'
Check back often for more Vintage Volkswagens for Sale