Below we feature some of the great VW Things we've recently sold
For a complete gallery view and more info about each Thing visit our VW Cars Sold Gallery
1973 Orange VW Thing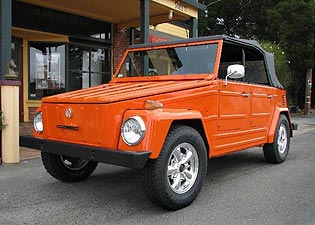 We have this very nicely restored orange Type 181 VW Thing for sale. This is a California Thing, originally from the Southern California desert. Very solid with no signs of bondo or rust. This VW Thing under went a recent, nice quality restoration. The paint is fresh and looks great! The interior was redone and looks fantastic and a new top was put on as well. The attention to detail is obvious. Bumpers, glass and rubber all look very nice. In addition, it starts, runs and drives very nicely. New exhaust system, wheels, tires and more. The original gas heater is installed but not connected. - SOLD

1974 VW Thing for Sale
Rare Avocado Green Thing!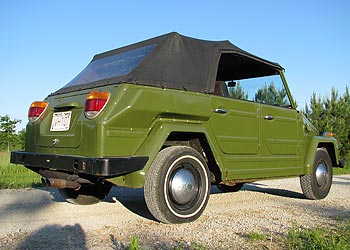 This green car is one of many VW Things we have sold over the years. This one is the middle-of-the-road car of the bunch. This is a nice, affordable Thing that runs and drives now with working brakes. A nice running motor was just installed and front wheel cylinders and shoes were just replaced and are new so it's a running and driving, nice complete car. The top has no tears. This is an original Avocado Green Thing--the rarest of the 4 available stock colors, it has been repainted but it is fairly close to the original color. SOLD.

1973 VW Thing Project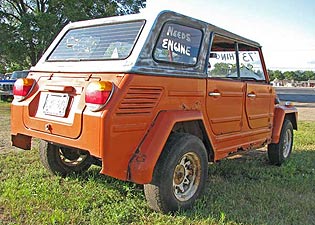 Project Thing priced to sell at $1300 - SOLD

Here is another option for you if you are looking for something very affordable just to get your foot into the fun world of VW Things. It's a project car for sure. It's a '73 VW Thing and if you don't want to feel overwhelmed with a total restoration you could perhaps put brakes in it, put on some newer tires and a classic air-cooled motor and just enjoy it as is. It has a factory hard top. I got this one from a lady who had owned it since the '80s. It has low mileage but that doesn't exactly matter as much without the motor. It would be a lot of work to restore to factory showroom condition but that could always remain an option down the road if you were to just focus on getting it back on the road to start.

1974 VW Thing
Starts right up and runs great!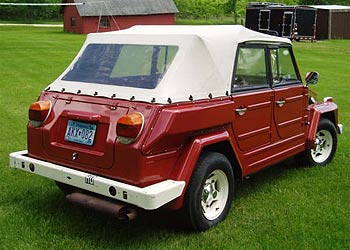 The second VW Thing we have for sale is this great red Thing. The engine in this VW starts right up and runs great, even without giving it any gas, you can just lean through the door, hit the key, and the engine fires right up. When I was checking out this car the original founder of Things Unlimited was there tuning the engine and carburetor. That guy sure knows what he's doing because the car runs and idles great. You can have your choice of the wheels and tires that are on the car, or you can have a good set of stock wheels and tires if you prefer. - SOLD
Ever since buying my first 1974 VW Thing in 1991 I've been hooked, and now I had the chance to sell the one and only "Safari Grande" featured in Dune Buggies and Hot VW's Magazine! It was built by Larry Dustman of the Thing Shop in Arizona. A custom built 1973-1974 6-door Acapulco VW Thing Limousine! The front half of a 1973 and the back half of a 1974 - so it has heat in the front and back. Larry built 2 of these but the other has gone missing - it was last seen, gulp, in a junk yard, and has since disappeared.
This limo Thing has a stretched Hard Top, a stretched Acapulco Top, Full roll bars, 2387 Cc engine (this beauty roars!), and dual carbs. Larry changed the paint scheme to blue and white in the late '90's at the request of a previous owner.
Click image for photos and video of this Acapulco VW Thing
(link opens to Sunset Classics)
| | |
| --- | --- |
| | |
| 1973 Acapulco VW Thing Interior | 1973 Acapulco VW Thing |
Another famous Thing (above) is an awesome custom built (also by The Thing Shop, and also featured in Dune Buggies and Hot VW's) sexy little 1973 2-door Acapulco VW Thing. The "Safari Pequeño" This is a great fun little Thing, and I believe it is a one of a kind. It was built by John Cullinan while working at the Thing Shop and shortened 14 inches to make it a 2 door. It has since had the motor replaced with a mostly stock VW Beetle engine, and the color scheme changed to yellow. (the 6-door limo and this 2-door actually switched color schemes)
Click below for detailed photos and video of this classic Acapulco VW Thing
| | |
| --- | --- |
| | |
| 1974 Acapulco VW Thing Interior | 1974 Acapulco VW Thing |
Acapulco Thing number three (above) is an original 1974 4-door Acapulco - Mostly restored by Steve Leonardis of San Jose California. Everything is stock, it came from California and has all correct vacuum lines and California emissions in their correct locations. It even has the original motor, original muffler, and stock Thing radio and speaker. Has the original Surrey Top on an additional frame, and a Hard Top with luggage rack (pictured above). 60,481 original miles. SOLD
Many more photos videos, and full descriptions of these three VW Things for sale can be seen at SunsetClassics.com
Thanks for looking!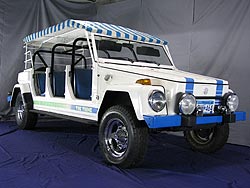 More Photo and Video of these Classic Acapulco VW Things and other classic cars for sale can be found at Sunset Classics

Check out the VW Cars Sold Gallery for more photos and details of the vehicles John has sold.

Head on over to the VW Buses for Sale page and buy a bus!
Hey, if you liked our vintage VW cars and buses please give us a 'Like'
Check back often for more Vintage Volkswagens for Sale


© Copyright John Snell X 1999-2015, Vintage VW Cars LLC All Rights Reserved.