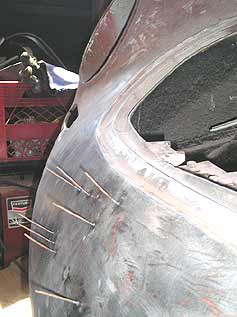 A friend brought over his stud welder (is that what it's called?) so we could pull dents. We tried it out on the dent in the nose of the car. The first pull pulled out more than half of the dent! I should have taken a photo BEFORE we pulled the dent, but it was about as round as a basketball.
More on this technique is on Page 4.
To see more rust repair and further progress continue on to
Porsche 356B Restoration page 3
Hey, if you liked our vintage VW cars and buses please give us a 'Like'

© Copyright John Snell X 1999-2015, Vintage VW Cars LLC All Rights Reserved.