Vintage VW Beetle for Sale
Buy a Cool Classic VW Beetle Today!

I've been restoring, collecting and selling classic VW's for over 20 years - currently I am focusing on some extensive bus restorations but I still love my Bugs!
Take a peek below for the current classic VW Beetles we have for sale - we just sold two fantastic 1962 VW Beetles, and we currently have a very slick 1964 Bug and a cool no expense spared custom '73 Super Beetle so take a peek and keep coming back to see what classic Beetles we have for sale next!
If you don't see what you are looking for just contact me, I have a lot of friends in the VW world so if I don't have it I may know someone that does.

This 1964 Bug for sale has new tires, all new brakes & suspension, new carpet, new factory floor mats, original engine, optional ski rack in rear bumper, and it RUNS GREAT! This just sold, sorry!
If we get another would you like to be notified? Email [email protected] and mention what you're in the market for car wise.

Custom 1973 VW Super Beetle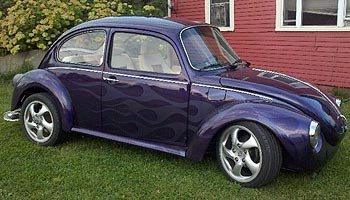 Here is a very cool custom 1973 Super Beetle for sale. She was built over the course of 3 years. No expense was spared as it was stripped down to a shell then anything that wasn't perfect was replaced with new. Everything under the car is either painted with POR 15 or bedliner. The motor is a 2110 with a 110 engle cam, dual 48 IDF Webers, oversized valves, 4 to 1 header with a dynaflow muffler. The guy that built the motor says he built it from a Gene Berg kit. The transmission is a Ranch freeway flyer with a short shift kit. Custom fiberglass dash and center console painted to match the car flames and all. She's decked out with a JVC DVD/mp3/CD player. SOLD

1962 VW Karmann Ghia
Convertible
Museum quality restoration!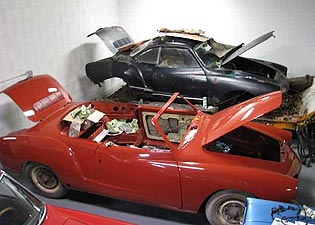 John Snell is doing this car up for himself.
Visit our new (used) Karmann Ghia for Sale page for more Ghias for sale.

Our Classic Porsche for Sale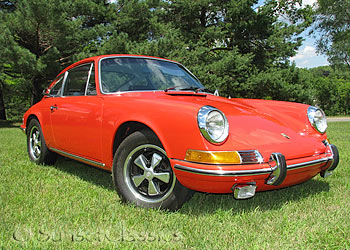 I love classic Porsche too! Visit the
Classic Porsche for Sale page for current listings.

1973 Shortened 2-Door
Acapulco VW Thing
One of a Kind - Safari Pequeño!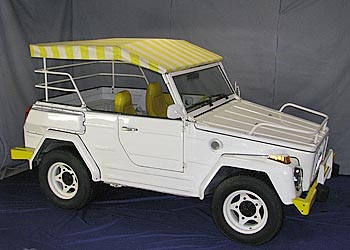 This little Thing has sold, but Click the photo to see the other VW Things we have for sale!