baja bug for Sale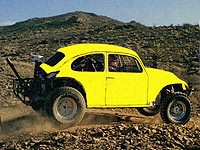 When most people think about cruising the dunes on a hot summer day often times they think dune buggy, but off-road enthusiasts know the real deal is the Baja Bug. I mean what gets your adrenaline pumping more a dune buggy or a custom hand built Baja bug with a 2000cc engine, Dual Red-Line Webers, CB Performance 044 CNC ported high flow heads, Cam-co blow through muffler with chrome tip, Pertronix electronic ignition, and 5 point harness Beard racing seats? I thought so.

If you are a true off road enthusiast than I'm sure you'll find a few Baja Bugs below that will crank your engine - there are usually several Baja bugs for sale ranging from home made customs to racing class Bajas to daily drivers, and of course the half finished project Baja bugs. So take a peek and good luck winning that auction.
As always, have a wicked cool day from the air-cooled kids at Vintage VW Cars.
Current Bid: $2,550.00
(11 Bids)
Ends: Apr 23, 07:47 pm
Buy It Now: $1,800.00
Ends: Apr 24, 04:43 pm
Buy It Now: $10,000.00
Ends: Apr 25, 05:29 pm
jump to page: