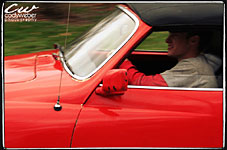 by: Midengine
Alright, it's been a while since I sold my Karmann Ghia Convertible but the story is still one worth hearing, and it shows what kind of guy is a VW guy.
At the time I owned my Ghia for about a week. It was my first VW and I was still learning VW 101. (still am) It was our first nice spring day and I couldn't help but take the Ghia out for a cruise. It was a great running car but had a few issues that had to be addressed. I just got done changing out the battery, generator, battery terminals and all connections.
So, by this time I was sure I had the charging issue addressed, right? Well I was confident so I took it for a longer drive to Ft. Madison Iowa, cruised along the windy Mississippi river road along the Illinois side then cut across at the Ft. Madison Iowa bridge, then proceeded south again toward Keokuk. It was fun the whole way and the car was behaving great, but by that time I needed some gas so I decided to stop at a gas station in Keokuk before I crossed the bridge into Hamilton Illinois again.
Well, I filled her up, got in and turned the key anxious to drive some more. She wouldn't even turn over! Just a single click! I tried to pop start it numerous times, and still nothing! She was drained! So I was about to start walking home... But then in this small town out of nowhere pulled in a orange 72' Ghia! It was the one I had heard about! I thought people were just getting me worked up because I've never seen this car! And a week into owning mine we ran into each other.
We had a little conversation and without me asking he volunteered to give me a jump start. Thankfully I had cables in the front still from before I changed the parts. So he backed his car up to mine and we let it charge a little, with his quiet exhaust purring, for a few minutes. By this time we had a lot of attention. We were on the main street in Keokuk that's also hwy 61 and it was the busiest gas station in town! Well I climbed in and gave the key a turn.
Vroom! She started right up! It was then I noticed how much louder my car was then his, and the exhaust leak made it worse. I thought they were all that crappy sounding! Well we exchanged a few more gestures and commented on each others cars, then we took off. I was still upset because my car was still broke, but I had a grin on my face the whole way home! I couldn't help but repeating, that was cool! to myself along the way home. It was!
After getting home I inspected the car and found the loose ground and disconnected wire on the generator. I found it to be the ground as the wire was for a dash light that would not go off. Then the next morning I went to the local exhaust shop to get the exhaust welded.
I didn't have much money after buying the parts to fix the charging issue so I just had him weld the flanges shut where the heat exchanger meets the muffler. They both needed to be replaced so I didn't mind welding them together. It made a world of difference! It sounded almost just like the sound clip of a Porsche 356 that I have saved on my computer.
Having the encounter at the gas station and then having my car sound like my dream car really made me love these things even more. Don't tell the Ghia, but after welding the exhaust I couldn't help but imagine I was driving a 356.
Hey, if you liked our vintage VW cars and buses please give us a 'Like'