~Fantastic 1959 Porsche 356A~
SOLD
More Porsche 356 for Sale Below...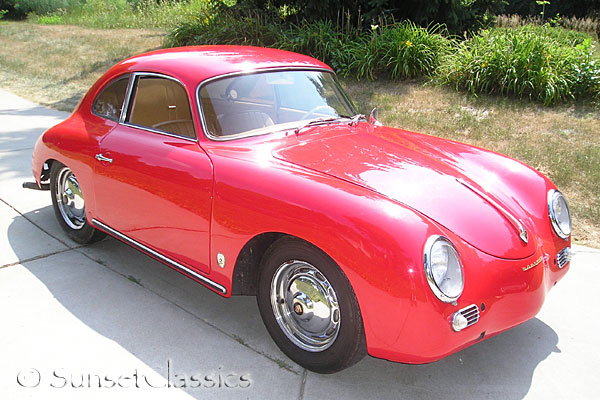 In my opinion this authentic 1959 Porsche 356A sports car is one of the greatest sports cars ever made. It's a beautiful car in my favorite color combination of a red exterior and a tan interior. This little beauty has had over $3200 in suspension and brake work done. The car has new king and link pins, new sway bar bushings, machined rear drums, new rear wheel cylinders and emergency brake cables, new ignition switch and much more.
The interior of this classic Porsche is in great shape as you can see from the photos below. The paint is at least 7-10 years old and it still shines like new. There was almost $2500 spent in 2005 in paint and undercoating related touch-ups and repairs to keep this Porsche 356 in prime condition. There is no bubbling but there are a few cracks in the paint. There has been rust repair performed on the car in the past, and to protect against future corrosion the underside of the car has been treated with rust-proofing and undercoating.
The car is very close to 50 years old and there really is no such thing as a perfect car unless Porsche or Gary Kempton has done the restoration. But this owner has been meticulous about upkeep, and nearly $8000 has been put into this car in the last 3 years to keep it looking and running its best. The only items in need of repair are the instrument gauges. They were working last fall but for some reason they all quit working this spring, perhaps something as simple as a fuse is the cause.
The engine case reads P84240 below the generator stand and further back on the block is stamped 34920 and 1600S. The VIN number of the car itself is 108209. The 1600s engine has had fewer than 5,000 miles on it since it was rebuilt.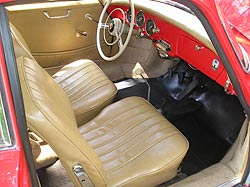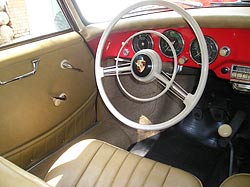 More Photos and Video of this Classic Porsche 356 and other classic cars for sale can be found at Sunset Classics
To find more cars for
sale head on over to the Porsche for Sale page!
Beetles, Bugs, Buses, and Buggies oh my!
....and Ghias and Porsches of course too.
Hey, if you liked our vintage VW cars and buses please give us a 'Like'